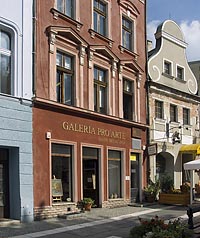 The Salon of Art. PRO ARTE
The Zielonogórskie Distict ZPAP
ul. Stary Rynek 2-3
Tel. 068 325 36 86
The Gallery is opened:
Tuesday to Friday: 11.00-17.00
Saturday: 11.00-14.00

The Association of Polish Artists (ZPAP) is a professional association of artists of visual arts working in 22 districts in Poland, established in 1911 in Cracow.
It unites 8500 artists creating in areas such as: painting, graphics, sculpture, interior design, ceramics, glass, stained glass, medal engraving, textile, industrial design, furniture, stage design, conservation of work of arts, photography, multimedia...
According to targets appointed by the status of ZPAP this supports development and popularizing creative activity, dealing with; a professional integration of artists, a legal protection of an artist's status in a society and also animating a creative activity through exhibitions, competitions, locations and publications.
Since 1996 ZPAP has been running a collective management of copyright to art pieces. This is an institutionally organized form representing artistic environments towards public authorities and municipal and also their partners on an international forum.
As Polish National Committee International Association of Art./UNESCO we have our own representative in World Executive Committee IAA. ZPAP is also represented in Board of Artists of Europe.

The Zielonogórskie District The Association of Polish Artists (ZPAP) The beginnings of the artistic environment in lubuskie reach the year of 1945, the first exhibitions and presentations took palce a year later. In the year of 1946 there was the first plan of common artistic activities of zielonogórskie and gorzowskie and the first attempts to constitute the environments in institutional frames of organizations.
On 28th May in 1945 with the decision of The Council of The Association of Polish Artists (ZPAP) The Delegacy of ZPAP The Poznańskie District was established in Zielona Góra. In 1959 The Council of The Association of Polish Artists (ZPAP) gave the previous Delegacy the rights of the department and in 1960 the rights of the District.





CONTACT
The Zielonogórskie District ZPAP
65-001 Zielona Góra
ul. Stary Rynek 2-3
Tel. +48 68 325 36 86
e-mail:
zpap.zgora@wp.pl